08/07/2018 Together with the "Come Together Cup" and "Grenzenlos in Bewegung" (sport students who enable refugees to do sports) we were marching with QFF members at Cologne Pride to spread the word about #ToRussiaWithLove 
04/07/2018 Ewald Lienen, technical director of FC St. Pauli, also supports #ToRussiaWithLove: "It is disgusting that LGBT people in Russia have to stand such repressions"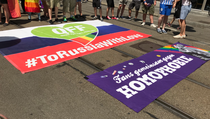 16/06/2018 Together with Fans gemeinsam gegen Homophobie, Fussballfans gegen Homophobie, "part-time-fans" Wohlen and Swiss QFF Fangroups we were at Zurich Pride. The #ToRussiaWithLove banner from Berlin was there, too. 
12/06/2018 Panel discussion "Homosexuality in sports" in Zurich and support for #ToRussiaWithLove from exponents of Swiss professional football (click photos to enlarge)
10/06/2018 A short video from Berlin of RBB (German TV station)
10/06/2018 Some pictures of today's actions at the consulates in Berlin, Bonn, Frankfurt, Leipzig an Munich plus supporting acts from Duisburg, Bradford, Nuremberg and Munster. Thanks to everybody involved and supporting us. You are phantastic!
10/06/2018 Travelling from Berne to Bonn does not always run smoothly... see Sven's experience on that special journey!
17/05/2018 Some impressions of the IDAHOBIT day actions in Leipzig and Munich